Saboom.com celebrates its 1st anniversary today *** Hurray ***! We are looking back on an amazing and eventful year.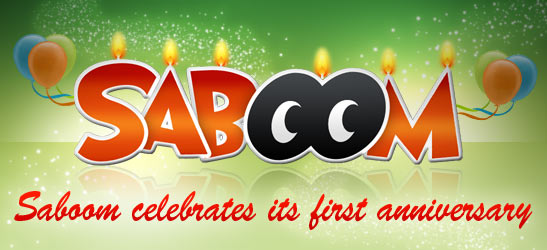 Here a brief review:
More than one year ago we came up with the unusual idea to determine the course of events in a porn movie. We called it "Saboom - Interaktiver Porno". We went from not possible to - letīs try it - and from impossible - maybe there is a way. A very exciting time of project development started. A lot of heart, soul and effort was necessary to get a first feedback from the market. The response was overwhelming. At the Venus fair 2010 Saboom already won two awards for the most innovative product.
Exactly one year ago we presented Saboom officially (see previous entry). From then on it was full steam ahead. We were on the right track. To make Saboom also attractive for webmasters we had a lot to work on. We needed more shows, cool new promotion material and many other things that are involved.
On 24th of January 2011 we released Saboom for promotion in Partnercash.com. With started off with 4 shows (Porncast, Rent a girl, The next day, Venus show) and worked contantly on and on. With the following shows A.S.S. Company, Menīs weekend, Hot Curves and Carpe Diem we tried to cover a broad range of interests.
Soon it was clear, that Saboom has great potential even on the international market. So we tested Saboom on the international market, we tried and optimized. There was a lot to do. We constantly got feedback from our customers, our partners and there still were hundreds of other ideas on the table. All these matters were incorporated in the development of Saboom. Right on time for the Webmaster Access fair in Amsterdam on the 14th of September 2011 we released "Saboom Release 2". At the same time we launched Partnercash international. This was a very important milestone for Partnercash and the Saboom team. And again: Euphoric feedback on our product.
Also 2011 we were honored again with the Venus Award fort he most innovative international product. The other highlight of this exciting and amazing year was the nomination for 2 XBIZ-Awards.