Saboom gave a new boost to the porn video market. It´s not our kind of style to rest on an innovative and successful product, so we put a lot of effort in our new features and created an even better version of Saboom. Our starting point was the multiple client feedback as well as the fact that we have thousands of ideas ourselves how to make Saboom even cooler for users. We mixed it up and now we´re presenting the even better version of Saboom. This blog post will give a first review of all the new cool features. In upcoming entries we´ll provide details of the new features and all the improvements.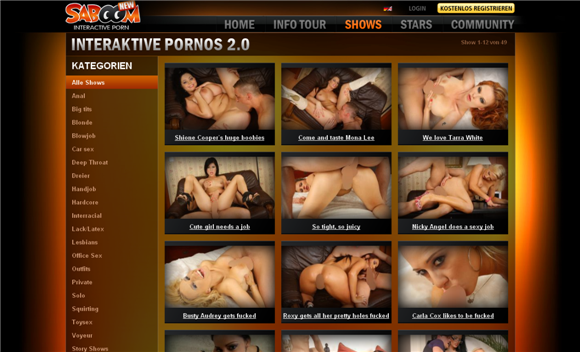 The several new features, which we wanted to integrate forced us to develop a new player. The outcome is a cool now Saboom player. Here an overview of the new features:
- Interactive Button:
The leap into luck. The interactive button enables the user to jump to random scenes within the show. He is totally in control about how he wants to proceed and so he is able to get to the climax even faster.
- Point-Of-View aka "Wow" Button:
With just one click the user can switch from the narrator´s to the POV view. With this feature he gets the feeling like he is right in the middle of action. You gotta try it…
- Porn Director:
With the Porn Director it´s very easy for users to create and play their own personal porn movie. At the porn director overview he sees all the available scenes and is able to built in advance his personal movie according to his fantasies. After that he can play his individual porn movie without constantly appearing decisions. A new slender design
"Less is more"
was the motto to reduce the number of menu items and to focus even more on the shows. Certainly the design is open to debate, but better conversions of the german and at the international traffic prove us right. We hope we could give a first overview of this features. More detailed information about the new features you´ll get in the following blog post. We´ll start with a post about the porn director. Have fun with Saboom, Your Saboom team